Welcome to the home of our Invitational Rook Tournament Series!
Twice a year, we host a Invitational Tournament for friends and relatives of the Hovater family in Roswell, Georgia.
Every fall since 1995 brings the Larry Smith Invitational Tournament, in honor of Mrs. Hovater's late father.
In the spring of 2009, we began the Paul Griffin Invitational Tournament, in honor of a beloved elder at the Embry Hills church.
In 2016, some friends from the Mountain View congregation began hosting the Wesley Guyton Invitational Tournament to honor his passing in 2015.
All three men were faithful Christians -- and excellent Rook players.
Our most recent Tournament was held on September 23, 2023.
Congratulations to our winner, Patricia Hovater!
Final standings are below, and you can review the round-by-round action here.
Visit us again later to learn about our next tournament!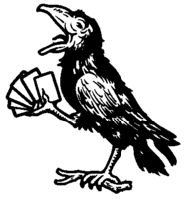 1

Hovater, Patricia
2660

2

Cornett, Steve
2495

3

Pickup, Grant
2465

4

Broadwell, Marty
2325

5

Brackett, Darren
2170

6

Williams, David
2155

7

Hicks, Grant
2040

8

Hicks, Janet
1915

9

Kercher, Tina
1845

10

Hovater, Paula
1760

11

Williams, Emory
1645

12

Cornett, Hailey
1590

13

Jardine, Tracy
1575

14

Caudill, Barry
1525

15

Reaves, Josh
1340

16

Cornett, Nicole
1185